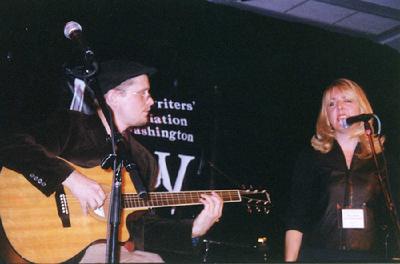 Allie & Sol at the Mid-Atlantic Awards Night at Jammin' Java
Songwriting News & Awards
Working on my CD with the help of some wonderful musical friends.

26th Mid-Atlantic Song Contest Award - 2009
"Messages" - Silver Winner - Instrumental
The talented Charlie Barnett plays the beautiful piano!

23rd Mid-Atlantic Song Contest Awards - 2006
Siempre - Gold Winner - World

23rd Mid-Atlantic Song Contest Awards - 2006
Margaret Mackin - Celtic - Hon. Mention
"Siempre" has been selected for airplay by Air Algérie, official airline of Algeria!

It is also being covered by Abuelito Florentín and Grupo Gen in El Salvador!


Allie's Irish ballad Margaret Mackin was played on Mary Cliff's Traditions radio in the month of March, just in time for St. Patrick's Day!!
Allie's song Siempre was played on XM 29 UPOP to 34 countries on Ted Kelly's World Party!
Allie recorded the talented Lynne Revo-Cohen's children's tune "Splish, Splash."

Allie recently recorded backup vocals on three reggae songs with De Prince from Sierra Leone -
"Teaching Your Children," "The Will of God," & "Me Pressure Run High."

Allie recently acted as co-host with Ron Goad at the showcase at Jammin' Java!

And Allie had the honor of Carol Gaylor covering her song "Messages." Carol also sings beautiful backup on Allie's CD!
Website powered by Network Solutions®